About the artist
Born 1941 and died 2010 in Germany.
Educated at an art school in Düsseldorf, the German artist made friends with fellow art students who agreed in their unacceptance of being pressured and pushed to a certain direction. Art was to be for the free mind.
Thus he began to created pieces that were humorous and ironic but not in an apparent and provoking manner. Inspired by advertisements and culture Polke used quite uncommon methods at times, such as washing powder or soot, creating art that was not easy to allocate to a certain style.
His whole artistic attitude and being was driven by recalcitrance and refusal of the, then, modern approach towards art. Due to his quite extreme opinion and behaviour he was denied exhibiting his work at the common venues. For he was seeking to establish a different style and understanding, Polke decided to walk a new and independent path: Along with his art friends in Düsseldorf he came up with the term 'Kapitalistischer Realismus' – a synonym for their own art stage, where art that didn't quite meet the general expectations of society could be displayed.
Today Polke is considered among the most important German artists of modern times.
(Quelle: artnet)
Inspirations
Dealing with the influence of the American culture in post war Germany.
Criticising the upcoming consumers society.
Going an independent path – away from realistic perfection.
(Quelle: artnet)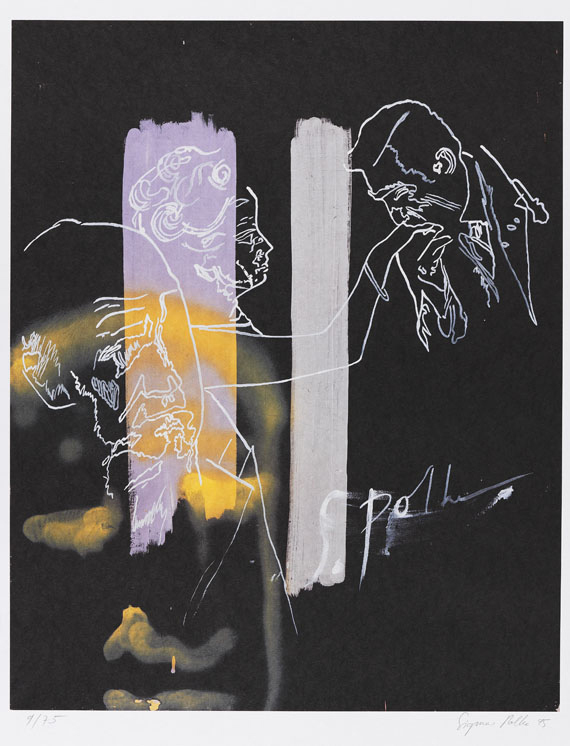 1955   |   64,5cm x 51,3   |   cardboard from Hahnemühle (no water sign)   |   Hand signed   |   Edition 60/75   |   Framed   |   Price: 1.300€