F.C. Gundlach
About the artist
Born 1926 in Hessen and lives in Hamburg, Germany today.
Gundlach studied the art of photography at a private institute in Kassel establishing the basis for a phenomenal career in the metier. He later found his calling in fashion photography and developed to become one of the best of his time. His pieces of the 1950s to 1970s still find their way into great art collections and exhibitions worldwide. Dealing with society, its influences and tendencies the German artist displayed reality – though being a fashion photographer. According to him a style and fashion photograph often tells more about a time than a documentary ever could.
Throughout his impressive career Gundlach was constantly on the move – residing in metropolis of fashion and art such as Paris and New York.
Today he acts as founding director of the House of Photography in Hamburg.
(Quelle: Stiftung F.C. Gundlach, NDR.de)
Inspirations
A life dedicated to photography where each single photograph is an art.
'To be a fashion photographer the artist is to totally live, think and feel in his time.'
Fashion photography as an art where interpretation and staging plays a major role.
(Quelle: Stiftung F.C. Gundlach, NDR.de)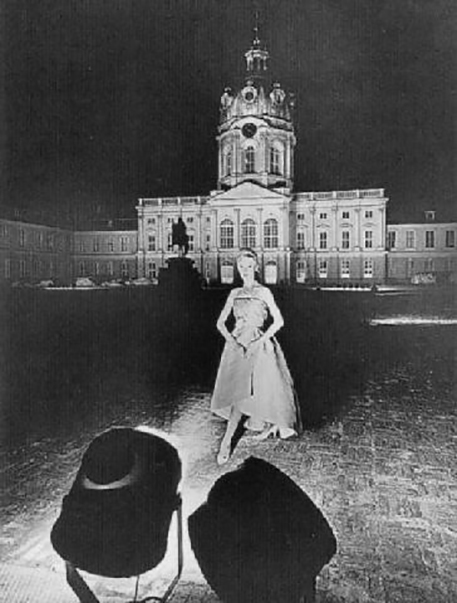 1959, Print 1989   |   40,3 x 20,5 cm   |   Lindenstädt & Brettschneider vor dem Charlottenburger Schloss   |   Gelatine silver print   |   signed and stamped   |   Framed   |   Price: 3.800 €