About the artist
Born 1881 in Zwickau, died 1955 in West-Berlin.
Pechstein studied art in Zwickau and Dresden. After moving to Berlin he established himself as an artist who should later be considered among the most important expressionist painters in Germany. Today he is well-known for his connection to the artist association 'Die Brücke'.
His focus in painting lay on depicting landscapes and different kind figures – mostly human. Many of his pieces were inspired by travels to exotic destinations.
When the national socialists came to power in Germany, Pechstein was detained form painting since his works were labeled as 'entartet'. Nevertheless he decided not to leave the country, as many other artists did who were struck by the same fate.
(Quelle: Pechstein Website)
Inspirations
Inspired by major turning points or grievous events in his life such as his travels, the participation in the First World War or his relationships with women.
Powerful and expressive. Strong in colours and painting style.
(Quelle: Pechstein Website)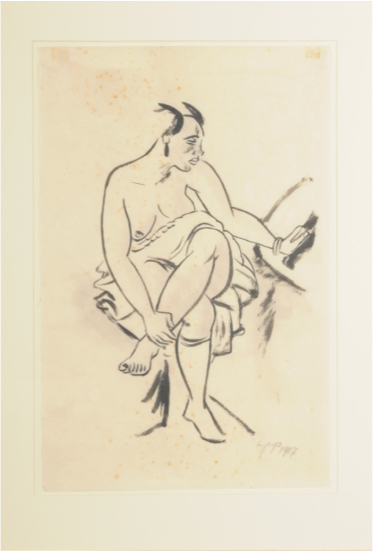 1917   |   Brush and India ink on Japan laid paper   |   Hand signed   |   Original   |  Framed   |   Price: 19.000€ (SOLD)