About the artist
Born in London 1931, lives in the US since the late 1950s.
After a troubled childhood and an imprisonment, he developed an interest for art which led to studies at the Camberwell College of Art and the Royal College of Art in London.
Morley has been influenced by quite a few different styles throughout his career, among others expressionism, abstract and contemporary approaches or photo realism. By copying pieces of passed greatness and transferring them on canvas in a photo realistic style (or super realistic as he refers to it) he tries to establish new meanings and creates sceneries beyond an objective reality. With this unique technique Malcolm Morley has developed a wide reaching reputation today.
The British born artist has had various exhibitions around America and Europe and is featured in some of the most important art collections of the post war time.
(Quelle: Sperone Westwater, artsy)
Inspirations
Abstract and super-realistic.
Artistic transformation as unique and wild as Morleys approach to art and his journey through life.
A scenery beyond objective reality and the urge not to categorise; especially not art.
(Quelle: Sperone Westwater, artsy)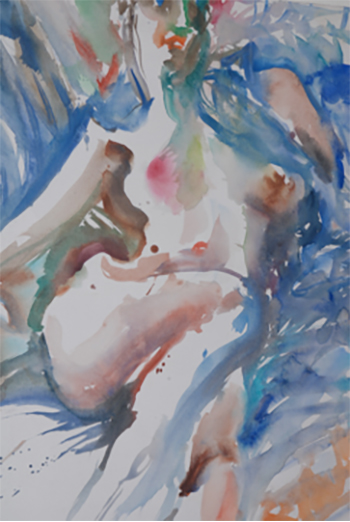 79 x 59 cm   |   Watercolour   |   Hand signed  |   original   |   Framed   |   Price: 38.000 € (SOLD)