About the artist
Born 1830, died 1903.
Born and raised on what is known as the American Virgin Islands today, Pissarro grew up on an exotic Caribbean island. When his family send him away to do his schooling in Paris, he started to develop an interest for painting and took up art studies after moving there permanently.
Profiting from the diverse art to be found in Paris at that time, Pissarro went through a few different stages of painting and sketching. Today he is best known for his impressionist pieces – as he is considered among the most influencing impressionist painters to have ever lived.
(Quelle: WHO's WHO)
Inspirations
Going through different painting styles – from colourful and expressive landscapes at first to calm, rather tidy cities sceneries in the later stages.
His eager to try and produce as much as possible expresses his productiveness as an artist: Pissarros work includes over 2.000 paintings and roughly the same amount in sketching's and prints.
(Quelle: WHO's WHO)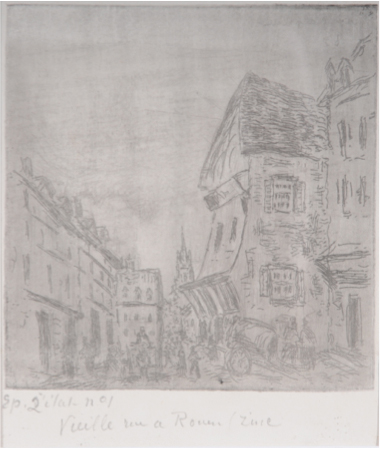 1833   |   etching and litography   |   Hand signed   |   FRAMED   |   Price: 4.750 EUR